"Chastity: I know you can be overwhelmed, and you can be underwhelmed, but can you ever just be whelmed? Bianca: I think you can in Europe" – 10 Things I Hate About You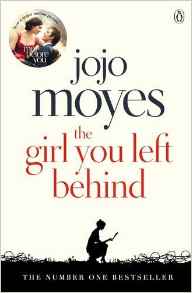 It's exciting to find a writer that you just get along with.  Their prose flows, you quickly engage with their characters, you slip into their imaginary worlds like you are slipping into a warm bath, and you lap up their books one after another. I have read three of Jojo Moyes' books, becoming gripped by her breakthrough novel Me Before You, which has now been made into a film. It had me gripped from the first scenes in the Buttered Bun. I read Silver Bay in pretty much one sitting. Next it was the turn of The Girl You Left Behind. Having just discarded (permanently – it really was that bad) a book set across two time periods of the Second World War and the present day, I was a little alarmed to note that the next book I selected from my shelf was also similarly contrived. I wonder if both authors attended a creative writing class where the suggested topic was "Echoes from the past".
I nonetheless ploughed on, confident that Moyes would do a better job than my former colleague-turned-author did with her book. Sophie Lefevre is living in occupied France during the First World War, running a hotel with her sister, both of their husbands fighting at the front. Moyes paints a vivid picture of the village and the hotel, Le Coq Rouge, that in my head I could sit in the bar and watch the comings and goings. Most things are not going well, food is scarce and fear is the only emotion, cold the only sensation.
Then, to Sophie's disgust, the Kommandant orders the sisters to begin hosting the German troops for their evening meal. The Kommandant soon spots the picture hanging in the hotel and is captivated by the subject, Sophie painted by her husband. Through the voice of Sophie we learn of her first meeting with the enigmatic painter and how he comes to paint her, followed by their blossoming romance. The story of Sophie, the Kommandant and the village unfolds and concludes (I shall not spoil it) then the time shifts to the present day and the home of Liv, where the painting of Sophie now hangs, found in a pavement sale by her husband David. For all of the empathy I had for Sophie, I could find none left for Liv. Widowed and cocooned in the home designed by her deceased husband, Liv is wallowing in her grief.
When family of Sophie discover that Liv now owns the painting, Liv battles to keep it in her possession, learning more about its provenance in the following weeks than she had ever done in all the years that it had hung on her wall. Clinging onto the painting threatens to bankrupt Liv and this is where I lost entirely any respect or empathy with Liv and with the story. Had the plot continued in occupied France, or even been expanded, the book would have been already a winner. Tacking on this flash-forward treatise on recovered war treasures seemed to me overreaching, especially with the twee romance that is interwoven into Liv's story. So yes there is such a thing as whelmed and if you want to feel it, read this book.